Ðóêîïèñè

TURUNOV A. DECEMBER EVENTS IN IRKUTSK: Bibliography. – Irkutsk, 1920-s.
36*21, 8 pages.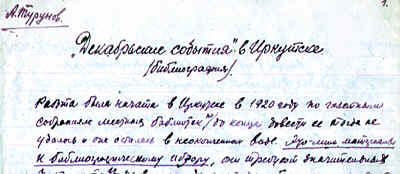 The first 3 pages include bibliographic articles from 1917-1927 books and periodic publications about December 1917 events in Irkutsk, military struggle between esers and Bolsheviks, the White House siege and etc. 4-7 pages include a typed variant of N.A. Alekseev's article "Irkutsk at the beginning of the October Revolution" where pre-December city situation was described. Page 8 has press cuttings from "Soviet Siberia" 1920 (Omsk) where it is possible to find information about these tragic days.
December events in Irkutsk are an important episode in the city history. The most detailed description of these 8 days are in N.S. Romanov's "Memoirs" (609-676 pages). He was not an event observer. But he managed to depict the events from the point of Irkutsk citizen's view. The people had to hide from artillery fire in the building basements. There were explosions and building on fire around the whole city, accompanied by food production shortages and a lack of water supply. But the main thing was a horror and a feeling of defenselessness, which were common among the townspeople. He wrote about battle aftermath – many churches and state establishments were destroyed, shops and storage houses were burnt, and communications were damaged. Many people lost their roof above their heads. Some were killed.

Public reproduction of materials of this site or separate parts, including electronic form,
admitted only with concent of Scientific Library of Irkutsk State University.

© Copyright Scientific Library of Irkutsk State University, 1999-2000
Webmaster Boris G.Fominyh