Manuscripts

IRKUTSK CHRONICLES – XIX c.
38 pages, blue paper, without bookbinding.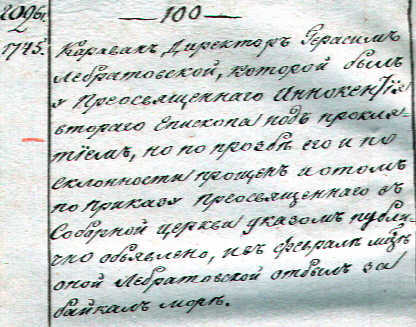 The earliest Irkutsk chronicle dates back to the first third of the XIX c. This abstract reflects 1717-1755 events. A compiler is unknown. Other Irkutsk manuscripts, kept in the scientific library, were written later.

PEZHEMSKY P.I. "IRKUTSK GUBERNIYA PANORAMA, INCLUDING HISTORICAL DESCRIPTION OF ERMAK's SIBERIAN CONQUEST; A LOOK AT SIBERIAN CITIES CONSTRUCTION; GEOGRAPHIC, HYDROGRAPHIC AND HISTORICAL ESSAY OF THE IRKUTSK REGION; BRIEF 150 YEARS OF HISTORY CHRONOLOGY; IRKUTSK 190 YEARS CHRONICLE." – Irkutsk, 1849.
317 pages. Manuscript is decrepit. Book bloc is broken. Bookbinding is a cardboard.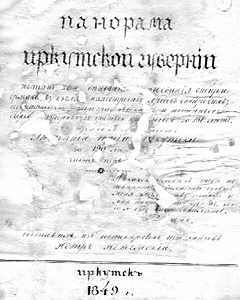 Petr Ilyich Pezhemskyi (1809-1861) was born in Irkutsk. He served as an office worker, then as a notary. In his spare time he was occupied with regional studies. Petr Ilyich collected city history materials. His manuscript depicted 1652-1845 period. It was opened by a preface "from a compiler to a favorable reader". Some lines from "A word about Igor's regiment", Derzhavin's poems, and Siberian historians and publicists' citations were used as some epigraphs to each chapter. It represents an evidence of a high culture and a good writer's erudition.

When the author was alive, his works abstracts were published in magazine "Sovremennik (Contemporary)" and "Irkutsk gubernskie vedomosti (news)". Later "190 years Irkutsk city manuscript" was republished together with Krotov's "Chronicle" as a separate book (VSORGO Works. – Irkutsk, 1911). At present time Pezhemskyi's works are being prepared to be published in a full volume by N.Kulikauskene.

Krotov V.A. IRKUTSK CITY CHRONICLE, COPIED BY A MERCHANT KROTOV VASILII ALEKSEEVICH FROM A DIFFERENT BOOK, HE HAD. KROTOV ADDED HIS OWN NOTES THERE. - Irkutsk, 1857
361 pages. Bookbinding: cardboard. Satisfactory preservation.

V.A. Krotov (1800-1863) recorded the events for more than 200 years – since winter quarters settlement foundation 1652 till 1856. It is a pity that the first page of the manuscript was almost lost and his contests could be determined by the words – "1652. The beginning of the city… winter quarters." The value of Krotov's chronological work is not only in the main body of the text about 200 years of city history, but also in the appendixes, the author ended his paper with. These are the notes "About saint churches construction in Irkutsk", a small article about early city history, which compensates lost first page contents and briefly describes city development in its first 100 years; an article "Foundation of the representative seats in Irkutsk"; lists "Archbishops of Irkutsk religious district", "Builders and monastery abbots"; (Irkutsk rulers- administrative people, military officials, vice-governors, governors, general governors).

At present time Krotov's manuscript is being prepared for a full publication.

ROMANOV N.S. IRKUTSK CITY CHRONICLE for 1881-1901. - Irkutsk, the beginning of XX century.
35x22. 416 pages. Pencil.
ROMANOV N.S. IRKUTSK-CHRONICS-MANUSCRIPT for 1894-1917. - Irkutsk, the beginning of XX century.
35x22. 417-1044 = 628 pages. Pencil.
ROMANOV N.S. MEMOIRS. 1871-1933. – Irkutsk, 1933.
45x30. 1057 pages. Ink.
Second half of XIX-early XX cc. events were reflected in Romanov's chronicle, representing two volumes of handwritten text (total more than 1000 pages) and his "Irkutsk citizen's memoirs" about a period up to 1933.

A peculiarity of N.S.Romanov's manuscript work was his personal impressions composition, contemporary memoirs and periodic literature of that time. Public and cultural life of the city and the most important events were well reflected in Romanov's book. In 1992-1994 2 volumes of "Irkutsk city manuscript" were published by the Vostochnoe-Sibirskoe publishing house (it was prepared by N.V.Kulikauskene under the guidance of S.F.Koval).

N.S.Romanov's "Memoirs" interested many city researchers. This book was not published yet, except for several small parts.

Public reproduction of materials of this site or separate parts, including electronic form,
admitted only with concent of Scientific Library of Irkutsk State University.

© Copyright Scientific Library of Irkutsk State University, 1999-2000
Webmaster Boris G.Fominyh