Manuscripts

KOZULYA. – A handwritten magazine of Irkutsk Spiritual Seminary students. – Irkutsk, 1856. Issues 1-3.

A handwritten magazine "Kozulya" is one of the most interesting pages in children literary arts of XIX century Siberia. 3 magazine issues were made by junior classes Seminary pupils with the help of a teacher of history Mikhail Vasilyevich Zagoskin (1830-1904). Later Zagoskin became a famous Siberian writer, journalist and a public activist.

All 3 issues are small notebooks in blue covers. Considering the contents of enclosed materials, these notebooks were written in May-June 1856. Each issue has an epigraph – "Kozulya is walking… it will butt, butt, butt…!". That meant biting insides.

Only the initials (D.M, A.D.K. and etc.) announced the authors of poems, stories and other works, used in the magazine. There were only three full names there – Zagoskin himself, who published a small story "Lenochka" in the first two issues; Grigoryi and Dmitrii Gamburzevs, who were supposedly brothers, Seminary students.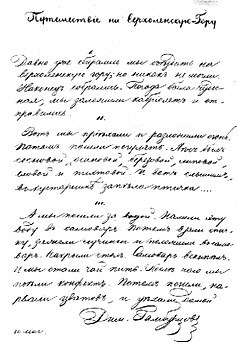 Besides literary works (poems, stories, fables), each issue included chapters "Critics", "Scientific articles", "Fashions" and etc. It was an imitation of the "thick" (popular) magazines of that time.

The third issue of "Kozulya" turned out to be last one for unknown reasons. The editorship bid farewell to the readers by writing a swan song with the words " Whatever can happen, be kind, love all beautiful in nature, life and poetry, your motherland. And serve it till your last breath!"

For many years this magazine was considered to be totally lost. Bibliological literature looked at this magazine as a satirical adult magazine. And only in 1973 ISU Scientific Library received 3 issues of the magazine from Paris. They were a gift from A.A.Gering, a descendant of Irkutsk people who emigrated from Russia. The handwritten Seminar students notebooks came back after more than a hundred years of travelling around the Globe. It is still unknown how many magazine copies were made. Most probably there was only a singular copy, which is presently kept in ISU Scientific Library.

Public reproduction of materials of this site or separate parts, including electronic form,
admitted only with concent of Scientific Library of Irkutsk State University.

© Copyright Scientific Library of Irkutsk State University, 1999-2000
Webmaster Boris G.Fominyh