Coat of arms

Irkutsk coat of arms was established on Oct 26, 1790 with a following description "On a silver field there is a running tiger with a sable in its mouth". This picture was created on the foundation of old emblems, which had existed on the city seals for a long time.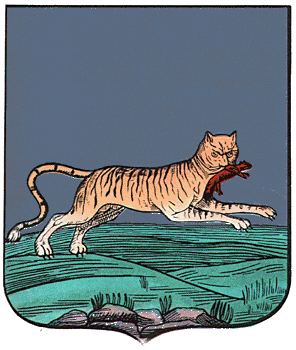 City symbols were a sable as regional wealth evidence and a tiger (Siberians called him "babr") as a power presentation.
In the chronicles of P.I. Pezhemskii and V.I. Krotov the city emblem was described: "Irkutsk coat of arms was granted on Feb 18, 1690, and this year it was confirmed by its majesty. It represents a "babr" on a silver background, which is running on a green grass towards left side of a shield. "Babr" has a sable in its jaws. Many of us take this "babr" for a beaver. Beaver is a famous amphibian animal, whose pelt is highly treasured. "Babr" is a bloodthirsty, strong and ferocious animal, which lives in hot countries. It runs into Siberia from China. Its pelt has light-yellow color with black-brown transverse stripes (with a long tail). This is the animal, which was pictured on Irkutsk City Coat Of Arms and all Irkutsk gubernia (region).

Public reproduction of materials of this site or separate parts, including electronic form,
admitted only with concent of Scientific Library of Irkutsk State University.

© Copyright Scientific Library of Irkutsk State University, 1999-2000
Webmaster Boris G.Fominyh